---
Sylvia's Children Announces New Store
Mbiriizi Crafts
Mbiriizi Crafts offers a wonderful opportunity for the Mbiriizi
to work creating their own income for their families.

SOAP – Old-fashioned soap like great grandma made.
BASKETS, BAGS, & RUGS – Beautifully hand woven from sisal.
BRACELETS & JEWELRY – One of a kind designs for all ages!

"They (multiple rugs) are gorgeous, thank you SO much!"


- Erin Furey (Co-Worker with Martha Stewart)
---
Pop Goes the Week Interviews Sylvia

POP INTERVIEW:
Sylvia Allen on How She Helps African Children Live Normal Lives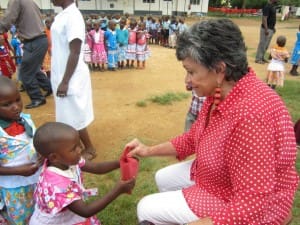 Pop Goes the Week interviews Sylvia Allen and writes, "Like many of you, I have never been to Africa, nor do I comprehend half of what is happening in that part of the world without having visited. It is difficult to imagine what that world must be like in real life separate from what I have seen in quick news stories or heard from politicians, who briefly mention their own African voyages during campaign pit stops. Sylvia Allen is the founder of Sylvia's Children, a non-profit charity devoted to helping Ugandan children attain things we take for granted in the modern world, like water, education, health care and books, and e-mailed responses regarding her experiences working with her "children," as well as chatting the ins and outs of heading the charity and its volunteer work with her biological son and daughter." Read full article.
---
5K Race to Benefit Sylvia's Children!!

Join us Sunday, June 9, at Thompson Park, Lincroft, NJ for a 5K race to benefit Sylvia's Children.


---
CLOTHING DRIVE

Partners include:
• Wine Sellers of Holmdel is located in the A&P Shopping Center on Route 35 North, across from Holmdel Commons
• Joseph J. Catena School in Freehold
• St. John Vianney High School in Holmdel
• Wall Cleaners in Wall
Items accepted are clothing, shoes, small toys, handbags, belts, linens, etc. The only things not accepted are electronics, furniture and dishware. All donated items should be placed in a 30 gallon black plastic bag and dropped in the collection box at each of these locations. And, if you can't get there, just call Sylvia @ 732-241-1144 … she will come and pick the bags up from you!
Funds raised from the clothing drive will be used to finance funding for the 250 orphans at the school so they can have food, lodging, clothing, health care and quality education for the children at the Mbiriizi Advanced Primary School, Uganda, Africa. For more information call (732) 946-2711 or e-mail Sylvia Allen at
Sylvia@sylviaschildren.org
.
---
African Nonprofit Sylvia's Children
Celebrates a Decade of Success
After devoting the past 10 years to her nonprofit Sylvia's Children, anyone who has met New Jersey resident Sylvia Allen, 76, would undoubtedly agree she has helped make life better for more than 1,000 children in Mbiriizi, Uganda. Read Entire Article
---
We Now Have Our Own Blend at the
Westfield Starbucks Store.

---
Brown's Heating and Cooling Supports Sylvia's Children
Brown's Heating and Cooling provides the heating, cooling & plumbing solutions in the Monmouth & Ocean Counties in New Jersey. They proudly announce their support for the children in Mbiriizi through Sylvia's Children. Read Brown's Article
---
A Child's Heart Touched by Sylvia's Children

When young Brendon learned of the children in the Mbiriizi Primary School in Masaka, Uganda, Africa, he knew he wanted to help. After talking to his parents, he presented his school teacher with a letter and $125 of his own money to give to Sylvia's Children.
Read Brendon's letter.
---

Future Trips Sylvia's Children

SUMMER 2014
Dates: June 13-June 25, 2013
The summer trip is a work trip ending with a safari (airfare from Newark, all airport transfers, hotel, food, guide and transportation the entire trip, water, trek … the works) The only extra money you need is for souvenirs!

WINTER 2013
Dates: November 14-22, 2012
This is our holiday trip where we put on a Christmas party for the children … gifts, cake, fireworks, you name it $2,500 all inclusive (same as above without a safari!)

SPRING 2014
Dates: March 13-25, 2014
This is the annual medical trip to continue improving the health care of our children at the Mbiriizi Advanced Primary and Day Care School as well as the village of Mbiriizi. $3,500 all inclusive (airfare from a Newark, all airport transfers, hotel, food, guide and transportation for the entire trip, water, safari .. the works)The only extra money you need is for souvenirs!



Read about Steven's trip to Uganda, Africa!